Hello Loves!! Happy Hump Day!
In the spirit of Christmas, I am teaming up with my dear friend Lauren from
Pockets Full of Happiness
to bring you our biggest and best post yet! This post is jammed packed with Christmas goodies, including a Christmas party look, a delicious recipe, and an exciting cocktail! To top it all off, we are giving away 'A Few of Our Favorite Things"!! Check out all of the goodies and then enter in the giveaway through the rafflecopter below! Good luck!
First up is my Christmas Party Look. I went for a more formal look and loved it. I think this look is so elegant and would fit in anywhere, whether it's a Christmas party at a restaurant or even at someone's house. I actually used a black lace dress for my top and put this long gold maxi skirt over it. I added gold and silver accessories and a black clutch. I think sparkly is a must for holiday parties. I usually add sparkle through jewelry, but you can see I also added it here in my clutch and belt. The clutch is a bit hard to see, but there are rhinestones on the clasp.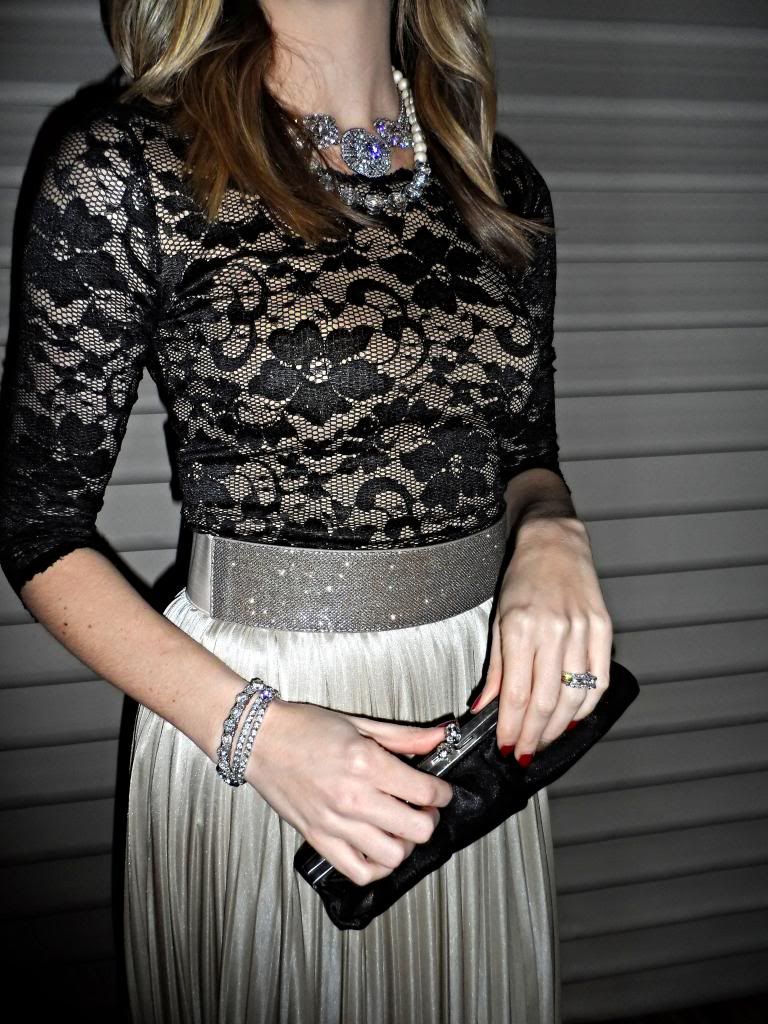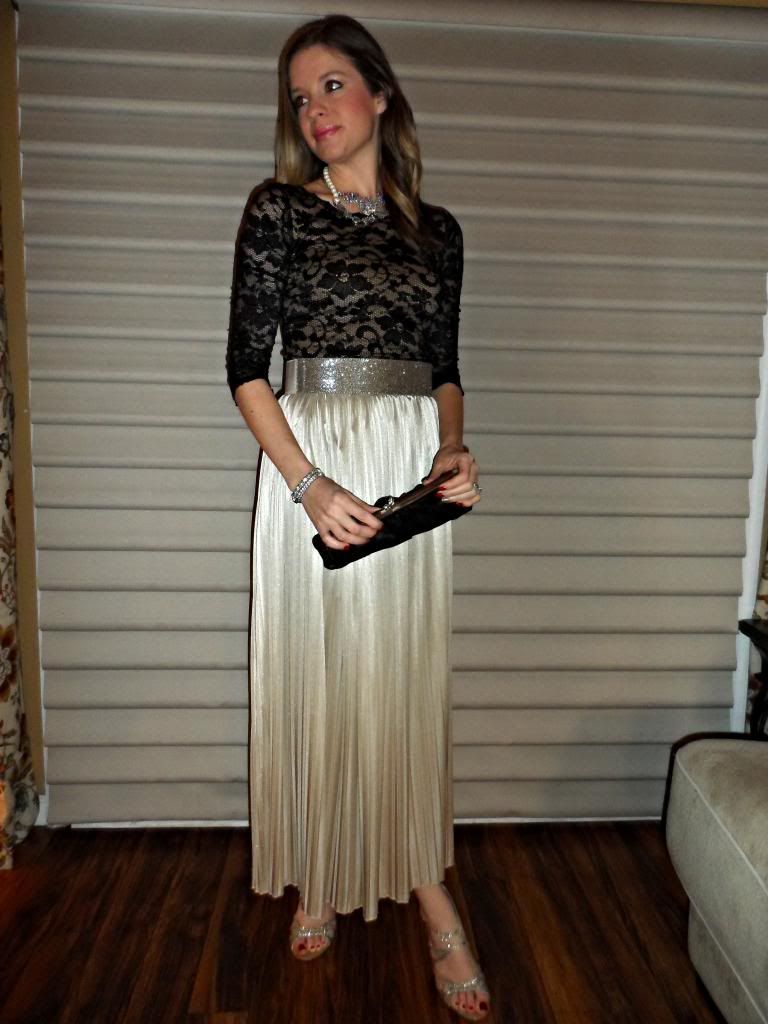 Dress (worn as top): Dillards
Similar
Necklace: Kate Spade and Dillards
Similar
I am so excited that Lauren from
Pockets Full of Happiness
is Co-Hosting with me to provide you with an amazing recipe and delicious cocktail! Here are her favorite holiday recipes!
Going to or hosting a christmas party at christmas? I have the BEST most simple cocktail recipe along with the most addicting appetizer to bring with you. Both of these are sure to leave your friends and family wondering how you came up with something SO delish!!!!!
4 ounces of chilled champagne
Start by putting the chambord in the glass. Then pour the champagne over the chambord. Top your cocktail with 4-5 raspberries. It's that simple and so yummy.
Here's what you'll need:
2 cups finely chopped pecans
½ cup finely chopped celery
¼ cup finely chopped green peppers
2 tablespoons finely chopped onion
2 teaspoons seasoning salt
Here's what you'll do:
Combine cream cheese, 1 cup pecans and remaining ingredients until thoroughly blended. Shape into ball or log and roll in the remaining cup of pecans and serve with crackers.
P.S.-- It's best to use a food processor or chopper to make the items chopped as fine as possible!
And for what you're really visiting for...the Giveaway!! One lucky winner will receive the following gifts just in time for Christmas: print scarf, chain necklace, hair ties, two gorgeous bracelets, a statement necklace, sunglass case, and chevron tape. Enter through the rafflecopter below!
a Rafflecopter giveaway
XOXO Jess